TOP BENEFITS OF STRAWBERRIES
Strawberries are considered as an accessory fruit as their fleshy part is not comprised of the plant's ovaries but of the receptacle that holds the ovaries.There are fewer calories and more vitamins. Vitamin C, B6 and Vitamin K are also there, along with folic acid, potassium and amino acids are also found in it.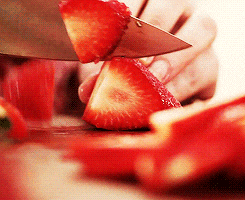 Strawberries are not just delicious to eat but also to treat skin.
8 Skin benefits of strawberry:
1.Treats acne
The acidic nature of strawberries remove excess oil on the skin, which is one of the primary reasons for acne.
2. Anti-aging properties
Strawberry is full of natural antioxidants. The antioxidants and ellagic acid save your skin from the harmful effects of UV rays and minimize wrinkling and collagen reduction that cause skin to age quickly.
3. Lightens blackheads
The salicylic acid in the berry is good for exfoliating dead cells and blackheads.
4. Skin lightening
Strawberries contain vitamin C which is known for lightening skin, and for making it more supple and smooth. It can be used to lighten and hydrate dark lips.
5. Tone the skin
Strawberries can do a marvelous job in toning your skin. Instead of opting for those OTC toning products laced with chemicals, you can use strawberries for natural skin toning benefits.
6. Dark circles
Strawberries work as astringents too and can be used to reduce puffiness and dark circles.
7. Protect skin from UV damage
The sun's radiation is one of the biggest external factors that can damage your skin health. But you can combat all that by using strawberries.
8. Reduce wrinkles
The ellagic acid in strawberry seed oil has a wide range of other benefits for your skin. It helps in reducing fine lines and wrinkles. It also boosts the production of collagen that is important for delaying the signs of aging.
 OUR BEST PRODUCTS RICH IN STRAWBERRY

We hope you enjoyed reading and will try out our products to have the best results.
love