HERE'S THIS 1 PRODUCT TO CURE PORES
Our main goal is to help you with any beauty related issues that can be from skincare to makeup, but one common issue to discuss is PORES! Even though everyone has them. before we let you in on the best pore-refining product, we need to set you straight on the fact.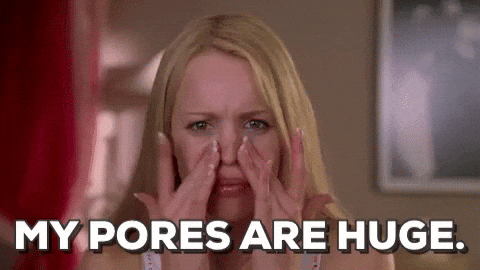 Here's the truth about pores.
What Causes Large Pores?
Although you probably identify pores as those little spaces of air in your skin, they're actually the opening of a hair follicle. The hairs are often so small they're not visible, but due to the oil glands that are at the base of the follicle, the follicle can over-grow and causing your pores to enlarge. Basically you cannot get rid of them but you can minimize their appearance.
HOW TO MINIMIZE PORES
WEAR SPF
The sun dehydrates your skin and makes the oil glands over-grow." so it'll "make your pores look bigger." always wear a SPF 50 during summers but during winter you can wear SPF 25 or 30. Make sure you use it regularly, before you apply makeup, SPF will act as a barrier.
DOUBLE CLEANSE 
One of the bestest technique to enhance the quality of your skin and make your pores look less visible, remove any dirt, impurities and excess oil lying on the skin surface.
So for cleansing all you need is oil cleanser that will provide best results easily. The better you cleanse remove dirt and have pore less glowing skin.
Our Favorite DIY's
Steam
A gentle steam can do serious things for your skin, most importantly it'll majorly hydrate your skin which means your pores will be more receptive to other topical products that you apply. 
Apple Cider Vinegar Toner
Apple cider vinegar actually contains natural AHAs, which means it will gently exfoliate the skin. Simply mix organic apple cider vinegar with distilled water in equal parts to create a toner, and then apply it onto cleansed skin with a cotton pad – warning, it does smell quite potent!
BEST PRODUCT TO MINIMIZE PORES 
This mask is 100% organic and formulated for all skin types, safe to use on eczema. 
BENEFITS 
♣️Boosts collagen production
♣️Hydrates skin and tightens pores instantly
♣️Reduces visible signs of aging
♣️Reduces appearance of sun damage 
♣️Makes skin super bright instantly
We hope you enjoyed reading, follow the tips to help you minimize pores and grab this amazing mask for instant results . 
Love👄