5 EYE BROWS STYLE THAT SUIT YOUR FACE
Fluffy, HD or microbladed, eyebrow grooming is a boom business thanks to icons such as Cara Delevingne. If  you're one of the chosen that have naturally shaped eyebrows that require little to no maintenance, you're a lucky. We finally realized a tiny strip of hairs was not our best or most flattering looks.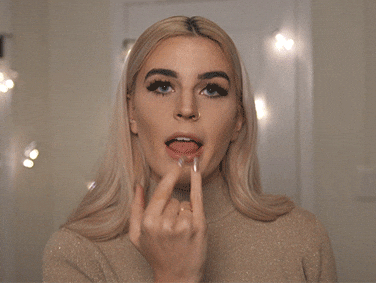 Tips to match, so your brows keep slaying!
ROUND-SHAPED FACE : GO FOR HIGHER ARCHED R ARCHED
Face Shape: Facial width and length are roughly the same size
Brow Goals: Lengthen your face
Celeb brow sisters: Mila Kunis, Emma Stone, Cameron Diaz
BROW STYLE : So, high arched brows will work the best for you, creating an illusion for slimmer face. Your goal is to elongate your face so start by filling your brows in at your arch. Add a little highlighter to your brow bone to lift the brow even higher.
 OVAL SHAPED FACE : SOFTLY ANGLED BROWS 
Face Shape: Forehead is slightly wider than the chin, with high cheekbones
Brow Goal: To help balance your facial features
Oval-shaped faced celebs: Jessica Alba, Beyoncé, Kerry Washington
BROW STYLE : If you're blessed with oval face then trust me you can rock any brow shape  Try softer angled look with slight arch to add dimension to your face.
SQUARE SHAPED FACE : THICK, FLAT BROWS WITH SOFT ARCH.
Face Shape: Forehead, jawline, and cheekbones are all the same width
Brow Goals: Revert the focus from your jaw to your brows
Celeb brow sisters: Keira Knightley, Olivia Wilde, Angelina Jolie
BROW STYLE : If you have a square face shape like the utterly gorgeous Keira Knightley, opt for slightly angled brows that will soften the angles of your face and add depth. But be careful of a sharp arch, and a round shape, like seen above on Olivia Wilde.
 LONG FACED SHAPE : LONG FLAT BROWS
Face Shape: Forehead, cheekbones, and chin are a similar width
Brow Goals: Add width to your face
Celeb brow sisters: Lucy Liu, Kelly Rowland, Gisele Bundchen
BROWS STLYE : Your main goal is to add width to your face, drawing then horizontally to rebalance your face.But, remember to go lighter as you edge further towards your ear line and always brush your brows width ways.
HEART SHAPED FACE : SOFT, ROUND BROWS
Face Shape: Forehead is wider with a sharp chin
Brow Goals: Soften your face shape
Celeb brow sisters: Scarlett Johansson, Naomi Campbell, Halle Berry
BROW STLYE : For all of you heart shaped beauties, try a rounded brow shape, as it'll help soften the more angular areas of your face.
We hope you enjoyed reading and figure out your face shape and slay like a PRO!!!
Love 👄